PVI: Noninvasive Fluid Responsiveness Monitoring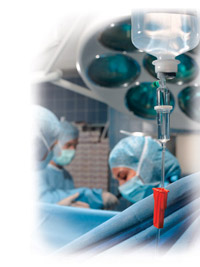 PVI is a breakthrough measurement that helps clinicians noninvasively and continuously determine whether to administer fluid to patients.
> Fluid administration is critical

to optimizing patient status.1

> Traditional methods to guide fluid administration often fail

to predict fluid responsiveness.2

> Newer methods may accurately predict responsiveness

but are invasive and costly.3

> PVI is proven to predict fluid responsiveness

in mechanically ventilated patients under general anesthesia during surgery and in the ICU.4,5

> PVI has been shown to help clinicians improve fluid management

and decrease lactate levels compared to standard care.6
Using SpHb in combination with PVI may enable improved fluid and blood management during surgery and in the ICU.
"SpHb and PVI have been important improvements for both the department and our patients. The ability to track hemoglobin and fluid volume in real-time allows us to be more precise in our clinical routine."
Bertrand Debaene, MD, Anesthesiologist at the University Hospital Center of Poitiers, Poitiers, France
1 Perel A.

Anaesth Analg.

2008;106(4):1031-33.
2 Michard F. et al.

Chest.

2002;121(6):2000-08.
3 Joshi G. et al.

Anaesth Analg.

2005;101:601-5.
4 Cannesson M. et al.

Br J Anaesth.

2008;101(2):200-6.
5 Feissel M, et al.

Critical Care.

2009;13(1):P205.
6 Forget P, et al.

Critical Care.

2009;13(1):P204.