SpHb®
Total Hemoglobin
Total Hemoglobin (SpHb®) is a breakthrough measurement that allows clinicians to noninvasively and continuously monitor hemoglobin—facilitating earlier and better clinical decisions, improved patient safety, and reduced cost of care.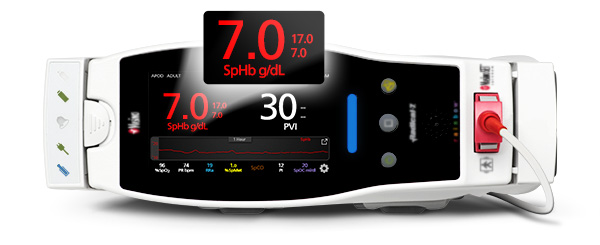 Click here to receive more information about Noninvasive
and Continuous Total Hemoglobin (SpHb) Monitoring »
Clinical Applications
Blood Transfusion Management

>

Red blood cell (RBC) transfusions are one of the most frequent procedures in every hospital and can increase risk to patients and costs to hospitals.

>

Many transfusions are considered unnecessary, so there is a growing recognition of the need to reduce RBC transfusions.

>

Laboratory hemoglobin values are used as a primary indicator for RBC transfusions, are only available intermittently, and are often delayed—leading to suboptimal transfusion decisions.

>

Masimo has invented noninvasive and continuous hemoglobin (SpHb) monitoring, which helps clinician optimize transfusion decisions by providing real-time trending in hemoglobin status.

>

SpHb has been shown to help clinicians reduce blood transfusions in both low and high blood loss surgery1,2

Bleeding Detection

>

Bleeding is frequent in surgery, intensive care, and obstetric patients

>

Bleeding is a significant risk factor and late detection further increases the risk4

•

Responsible for 19% of in-hospital maternal deaths5

>

Late bleeding detection impacts patient care and cost

•

Average hospital has multiple patients per year with serious injury or death due to late detection of bleeding6

•

Bleeding significantly increases the total cost of patient treatment4

>

Low Hb identifies almost 90% of patients with bleeding,7 but traditional lab measurements are infrequent and delayed

>

The Joint Commission has issued a sentinel event alert for OB patients, calling for protocols to improve the ability to detect hemorrhage8

>

Masimo SpHb has demonstrated its lifesaving potential to help clinicians detect occult bleeding in places like intensive care units and labor and delivery wards.9

Spot-check Assessment

>

Traditional invasive lab testing provides delayed results and requires a painful needle stick and time-consuming blood draws.

>

Quick spot-check testing of total hemoglobin (SpHb), SpO

2

, pulse rate, and perfusion index, may provide benefits to the clinician, staff, and patient in multiple care areas:

•

Emergency departments, pulmonary function testing labs, general floor, physician offices, and blood donation centers.

>

Clinician benefits

•

Facilitates timely patient assessment

•

Reduces the need to wait for lab results

>

Staff benefits

•

Easy-to-use—Improves efficiency

•

Decreases risk of accidental needle stick and exposure to blood-borne pathogens

>

Requires no lab consumables or waste disposal

•

Patient benefits

•

Reduces painful needle sticks and time-consuming blood draws

•

Enables immediate face-to-face counseling with clinician
"Masimo SpHb is an impressive new tool that could potentially help us to more safely guide patients in surgery through to recovery. With it, not only can we spot hemoglobin changes as they occur, but we can see where they are heading. This ability to identify an upward or downward hemoglobin trend on a second-by-second basis as it occurs could be of tremendous value."
Ronald Miller, MD
Chief of Anesthesia, Professor and Chairman of the
Dept. of Anesthesia and Perioperative Care at the
University of California, San Francisco, CA
Technology Platform
Masimo rainbow® is a noninvasive monitoring platform enabling the assessment of multiple blood constituents and physiologic parameters that previously required invasive or complicated procedures, in addition to providing Masimo SET® Measure-through Motion and Low Perfusion™ pulse oximetry.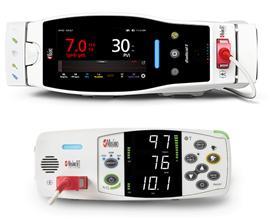 >

Total Hemoglobin (SpHb®)

>

Carboxyhemoglobin (SpCO®)

>

Methemoglobin (SpMet®)

>

Oxygen Content (SpOC™)

>

Acoustic Respiration Rate (RRa™)

>

Oxygen Saturation (SpO2)

>

Pulse Rate (PR)

>

Perfusion Index (PI)

>

Pleth Variability Index (PVI®)
The upgradeable rainbow® platform lets you choose the rainbow® measurements that are right for you now and be confident that your investment in patient safety won't become obsolete tomorrow.
PDF Resources
Case Studies
Financial Tools
REFERENCES
1 Ehrenfeld JM et al. ASA. 2010. LB05. (abstract)
2 Awada W.F.N., Maher F. Proceeding of the Society for Technology in Anesthesia Annual Meeting, 2013: p 51.
3 Hebert PC. Crit Care. 1999: 3(2):57-63.
4 Herwaldt LA. Infect Control Hosp Epidemiol. 2003; 24(1):44-50.
5 Bateman BT et al. Anesth Analg. May 2010 110:1368-1373.
6 HRA Research of Hospital Executive 2012.
7 Bruns B et al. J Trauma. 2007; 63(2):312-5.
8 The Joint Commission, "Sentinel Event Alert: Preventing Maternal Death" Issue 44, January 26, 2010
9 Case studies listed above