Clinical Accuracy
Background – Laboratory Hemoglobin Variability
Many clinicians are not familiar with the level of variability that exists in laboratory hemoglobin measurements, both within and between laboratory device models.
In a study of 5 different models of laboratory CO-Oximeters, using two of each lab CO-Oximeter, for a total of 10 devices, investigators reported the average standard deviation was 0.5 g/dL over all five devices and the max was 1.2 g/dL.1
| | | | | | |
| --- | --- | --- | --- | --- | --- |
| Manufacturer Model | Radiometer ABL-735 | Bayer Rapidlab 860 | Nova STP CCX 1 | Roche Omni S | Instrumentation 682 CO-Oximeter |
| Bias (g/dL) | 0.0 | -0.3 | -0.8 | -0.4 | 0.4 |
| Standard deviation (g/dL) | 0.1 | 0.2 | 0.3 | 0.8 | 1.2 |
Many clinicians are also not familiar with the level of variability that exists between laboratory hemoglobin methods, because they would rarely have a clinical reason to send the same blood sample to two different lab devices.
There is even greater variability when analyzing hemoglobin values from two different laboratory methods.
The most common method of measuring hemoglobin in the central lab is through a hematology analyzer, while in the operating room and ICU it is most often through a CO-Oximeter, the same device used for arterial blood gas measurements.
In a study done at the Mayo Clinic, 471 consecutive blood samples during surgery were run on both the central lab hematology analyzer as well as the department CO-Oximeter.
The results showed two calibrated lab devices analyzing sequential blood draws varied up to 2 g/dL.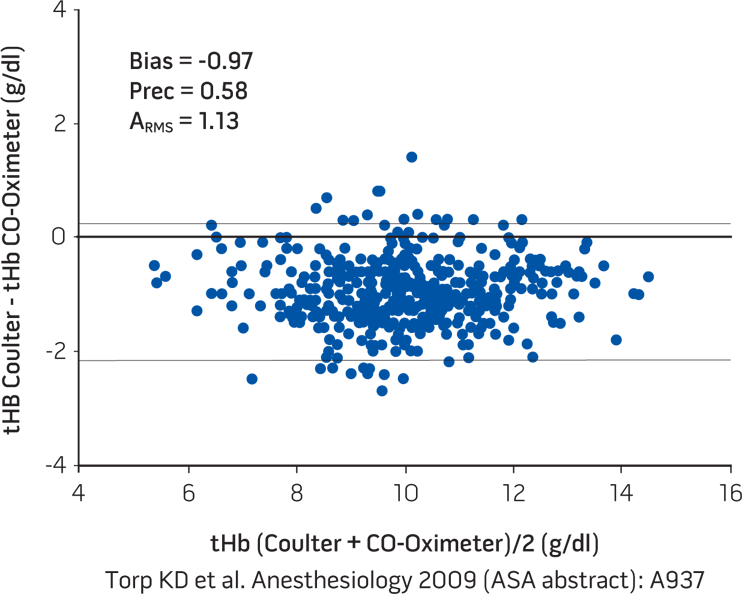 This is significantly greater than most clinicians expect, but it is real variation.
Intra- and inter-laboratory device variation is important information to know when assessing a new hemoglobin method like SpHb.
SpHb

Accuracy
In Masimo's FDA submissions, SpHb has been consistently validated in a range of 8 to 17 g/dL with accuracy of 1.0 g/dL ± at one standard deviation.2
An independent study in the surgical intensive care unit evaluated 471 hemoglobin measurements from 62 patients.3
SpHb, a satellite laboratory CO-Oximeter (Siemens RapidPoint 405), and a point-of-care device (HemoCue 301) were compared to reference hemoglobin from the central laboratory hematology analyzer (Sysmex XT2000i).

Satellite lab CO-Oximeter was 0.9 ± 0.6 g/dL (Arms 1.1 g/dL)
Point-of-care Hemocue was 0.3 ± 1.3 g/dL (Arms 1.3 g/dL)
SpHb was 0.0 ± 1.0 g/dL (Arms 1.0 g/dL)

It is worth noting that all methods have outliers.

In addition, changes in hemoglobin from the central lab hematology analyzer occur when multiple measurements are taken. They can go up, go down, or stay roughly the same.
Researchers also evaluated how the changes in satellite lab CO-Oximeter, HemoCue, and SpHb, compare to changes in central lab hemoglobin.
Both visually and by the correlation (R value), SpHb trend accuracy was similar to the 2 invasive methods.
It is worth noting that all methods have outliers.

All available SpHb studies are listed here.
REFERENCES
1 Gehring H et al. Anesth Analg. 2007;105:S24 -30.
2 Masimo FDA 510(k) Submission Data.
3 Frasca D et al. Crit Care Med. 2011 Oct;39(10):2277-82.