Clinical Evidence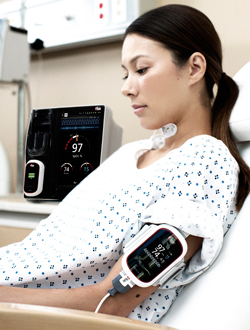 Masimo is passionate about making innovative technologies that give clinicians the tools they need to do what is best for patient care. That's why it is gratifying to see so many independent clinicians and clinical researchers take the time to independently evaluate our products and technologies.
Click on the links below to read the featured studies from all of Masimo's technologies, or in the sections below for access by subject area to all studies.*
Featured Clinical Studies
Accuracy of Pulse Oximeters Intended for Hypoxemic Pediatric Patients.


Harris BU, Char DS, Feinstein JA, Verma A, Shiboski SC, Ramamoorthy C. Pediatr Crit Care Med. 2016 Apr;17(4):315-20.

Temporal quantification of oxygen saturation ranges: an effort to reduce hyperoxia in the neonatal intensive care unit
M J Bizzarro, F Y Li, K Katz, V Shabanova, R A Ehrenkranz and V Bhandari. Journal of Perinatology (2014) 34, 33–38; doi:10.1038/jp.2013.122; published online 26, September 2013
Pulse oximetry with clinical assessment to screen for congenital heart disease in neonates in China: a prospective study.
Zhao Q., Ma X., Ge X, Liu F. , YanW., Wu L., Ye M., Liang X., Zhang J., Gao Y., Jia B., Huang G., The Neonatal Congenital Heart Disease Screening Group. The Lancet, Available online 22 April 2014.
Performance of Three New-Generation Pulse Oximeters during Motion and Low Perfusion in Volunteers.


Shah N, Ragaswamy HB, Govindugari K, Estanol L. J Clin Anesth. 2012 Aug;24(5):385-91.

Prevention of Retinopathy of Prematurity in Preterm Infants through Changes in Clinical Practice and SpO2 Technology.
Castillo A., Deulofeut R., Critz A., Sola A. Acta Paediatr. 2011 Feb;100(2):188-92.
Impact of pulse oximetry screening on the detection of duct dependent congenital heart disease: a Swedish prospective screening study in 39,821 newborns.
de-Wahl Granelli A., Wennergren M., Sandberg K., Mellander M., Bejlum C., Inganäs L., Eriksson M., Segerdahl N., Agren A., Ekman-Joelsson B.M., Sunnegårdh J., Verdicchio M., Östman-Smith I. BMJ. 2009;Jan 8;338.
More Reliable Oximetry Reduces the Frequency of Arterial Blood Gas Analyses and Hastens Oxygen Weaning after Cardiac Surgery: A Prospective, Randomized Trial of the Clinical Impact of a New Technology.
Durbin C.G. Jr., Rostow S.K. Crit Care Med. 2002 Aug;30(8):1735-40.
Reliability of Conventional and New Pulse Oximetry in Neonatal Patients.
Hay W.W., Rodden D.J., Collins S.M., Melara D.L., Hale K.A., Fashaw L.M. J Perinatol. 2002 Jul-Aug;22(5):360-6.
"Motion-Resistant" Pulse Oximetry: A Comparison of New and Old Models.
Barker S.J. Anesth Analg. 2002 Oct;95(4):967-72.
Click here for all available studies on this topic
Pleth Variability Index-Directed Fluid Management in Abdominal Surgery under Combined General and Epidural Anesthesia


Yu Y., Dong J., Xu Z., Shen H., Zheng J. J Clin Monit Comput. 2014 Feb 21.

Goal-Directed Fluid Management Based on the Pulse Oximeter-Derived Pleth Variability Index Reduces Lactate Levels and Improves Fluid Management.
Forget P, Lois F, de Kock M. Anesth Analg. 2010 Oct;111(4):910-4.
Pleth Variability Index to Monitor the Respiratory Variations in the Pulse Oximeter Plethysmographic Waveform Amplitude and Predict Fluid Responsiveness in the Operating Theatre.
Cannesson M., Desebbe O., Rosamel P., Delannoy B., Robin J., Bastien O., Lehot J.J. Br J Anaesth. 2008 Aug;101(2):200-6.
Click here for all available studies on this topic
Impact of Pulse Oximetry Surveillance on Rescue Events and Intensive Care Unit Transfers: A Before-And-After Concurrence Study.
Taenzer A.H., Pyke J.B., McGrath S.P., Blike G.T. Anesthesiology. 2010 Feb;112(2):282-7.
Postoperative Monitoring – The Dartmouth Experience.
Taenzer A.H., Blike, G. T. APSF Newsletter 2012.Available at: http://www.apsf.org/newsletters/html/2012/spring/01_postop.htm Accessed June 14, 2012.
Continuous Pulse Oximetry Monitoring with Clinician Notification is Associated with Lower Patient Mortality in Post-Surgical/Medical Patients
Carlson J. Respiratory Care 2013; 58 (10):1784
Click here for all available studies on this topic
Continuous and noninvasive hemoglobin monitoring reduces red blood cell transfusion during neurosurgery: a prospective cohort study.


Awada WN, Mohmoued MF, Radwan TM, Hussien GZ, Elkady HW. J Clin Monit Comput. 2015 Feb 4. [Epub ahead of print] PubMed PMID: 25649717.

Trending and Accuracy of Noninvasive Hemoglobin Monitoring in Pediatric Perioperative Patients


Patino M, Schultz L, Hossain M, Moeller J, Mahmoud M, Gunter J, Kurth CD. Anesth Analg. 2014 Jul 17. [Epub ahead of print] PubMed PMID: 25036374.

Accuracy of a Continuous Noninvasive Hemoglobin Monitor in Intensive Care Unit Patients.
Frasca D., Dahyot-Fizelier C., Catherine K., Levrat Q., Debaene B., Mimoz O. Crit Care Med. 2011 Oct;39(10):2277-82.
The Accuracy of Noninvasive and Continuous Total Hemoglobin Measurement by Pulse CO-Oximetry in Human Subjects Undergoing Hemodilution.
Macknet M.R., Allard M., Applegate R.L., Rook J. Anesth Analg. 2010 Dec;111(6):1424–6.
Click here for all available studies on this topic
The Accuracy, Precision and Reliability of Measuring Ventilatory Rate and Detecting Ventilatory Pause by Rainbow Acoustic Monitoring and Capnometry.
Ramsay M.A.E., Usman M., Lagow E., Mendoza M., Untalan E., De Vol, E. Anesth Analg 2013
Accuracy of Respiratory Rate Monitoring using a Non-Invasive Acoustic Method after General Anaesthesia.
Mimoz O., Benard T., Gaucher A., Frasca D., Debaene B. Br J Anaesth. 2012 May;108(5):872-5.
Accuracy of Acoustic Respiration Rate Monitoring in Pediatric Patients


Patino M., Redford D.T., Quigley T.W., Mahmoud M., Kurth C.D., Szmuk P. Paediatr Anaesth. 2013 Sep 3.

Click here for all available studies on this topic
Accuracy of Noninvasive Multiwave Pulse Oximetry Compared With Carboxyhemoglobin From Blood Gas Analysis in Unselected Emergency Department Patients.
Roth D., Herkner H., Schreiber W., Hubmann N., Gamper G., Laggner A.N., Havel C. Ann Emerg Med. 2011 Jul;58(1):74-9.
Noninvasive Pulse CO-Oximetry Expedites Evaluation and Management of Patients with Carbon Monoxide Poisoning.
Hampson N.B. Am J Emerg Med. 2012 May 23.
Click here for all available studies on this topic
Absolute and Trend Accuracy of Masimo O3 Regional Oximetry in Healthy Volunteers During Controlled


Redford, D., Paidy S., Kashif F. 2014 STA Annual Meeting, January 15-18, Orlando, FL. Abs#46
Titration of Delivery and Recovery from Propofol, Alfentanil, and Nitrous Oxide Anesthesia.
Drover D.R., Lemmens H.J., Pierce E.T., Plourde G., Loyd G., Ornstein E., Prichep L.S., Chabot R.J., Gugino L. Anesthesiology 2002; 97:82–9.
Click here for all available studies on this topic
* This section is intended to provide access to clinical studies conducted using Masimo noninvasive technologies, parameters, and products, which are known to Masimo's marketing department. We cannot guarantee that all clinical studies, abstracts, and research are listed. To view the individual clinical studies, please click on the appropriate tab.
Masimo devices with SpHb, SpCO, and/or SpMet monitoring are not intended to replace laboratory blood testing. Blood samples should be analyzed by laboratory instruments prior to clinical decision making.
** The use of the trademark PATIENT SAFETYNET is under license from University Health System Consortium.
PLCO-000773/PLMM-10371A-0217