Undetected Bleeding Challenges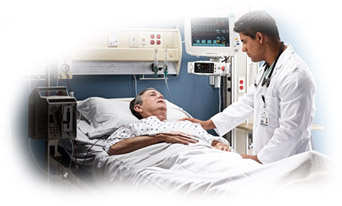 Post-surgical and critical care
patients face real dangers from
undetected bleeding.
> Significant bleeding occurs in up to 35% of surgical and critical care patients.

1

> Low hemoglobin identifies almost 90% of patients with bleeding,

but traditional laboratory measurements are infrequent and delayed.2

> Bleeding significantly increases the cost of treatment.

2
Opportunity for Enhanced Bleeding Detection
Continuous SpHb monitoring may allow you to:
> Identify hemorrhaging

earlier, increasing patient safety by allowing for more timely intervention.

> Avoid patient morbidity

and its associated costs.
Continuous monitoring with Masimo SpHb may allow you to identify hemorrhaging and initiate appropriate treatment earlier.
"In the past, we've only received glimpses of our patients' hemoglobin levels from lab measurements, but now we have complete and real-time hemoglobin visibility. This is vital in the ICU, where post-operative monitoring of internal bleeding is critical to patient recovery."
Randy Marcel, MD, Medical Director and Chief of Anesthesiology at The Heart Hospital Baylor Plano, Plano, TX
SpHb could contribute to $67,350 in net annual cost savings in an intensive care department.
Capgemini Report, 2009: Using Noninvasive Pulse CO-Oximetry to Help Improve Patient Safety, Reduce Costs and Increase Hospital Revenues.
1 Herbert PC.

Critical Care.

1999;3(2):57-63.
2 Herwaldt LA.

Infect Control Hosp Epidemial.

2003;24(1):44-50.