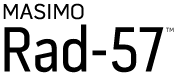 Helps first
responders
detect
Carbon Monoxide
(CO) poisoning
on the scene.
"Firefighters who ignore the serious dangers of CO exposure are risking heart attack, stroke, neurological disorders, lifelong disability, and death."
Mike McEvoy
EMS Director, New York State
Association of Fire Chiefs
Carbon Monoxide Poisoning -
The Silent Killer
Even though firefighters are trained to understand the dangers of CO poisoning and to recognize the potential signs and symptoms, CO poisoning can go unrecognized and untreated, leading to short-term risk and long-term health problems.
Know the Facts About CO Poisoning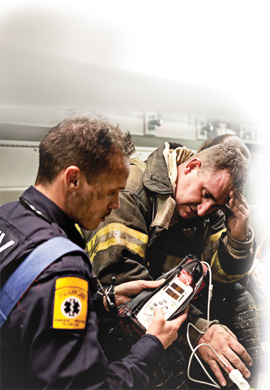 >

CO poisoning can be difficult to detect.

•

CO poisoning can present with flu-like symptoms, but it is also possible to be poisoned without having any symptoms at all.1

>

CO poisoning puts firefighters at significant risk at the scene of a fire.

•

Even mild CO poisoning causes mental confusion, which can lead to poor decision making, putting both the exposed firefighter and others on the fire scene at risk.2

•

Mild CO poisoning can also rob the heart and brain of oxygen—nearly 50% of line of duty firefighter deaths are attributed to heart disease or stroke.3

>

CO poisoning significantly increases long-term health risks.

•

Just one severe CO poisoning almost doubles the risk of premature death.4

•

Consistent exposure to CO poisoning may cause long term heart and brain damage.5
"Any firefighter exposed to CO or presenting with headache, nausea, shortness of breath, or gastrointestinal symptoms at an incident where CO is present should be assessed for CO poisoning."
NFPA 1584 (2008). Standards on the
Rehabilitation Process for Members During Emergency
Operations and Training Exercise
Keep Firefighters Safe From CO Poisoning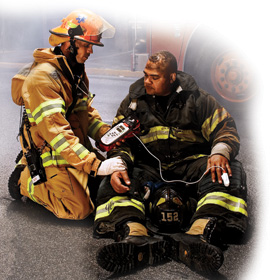 >

Have CO levels tested on the scene with the Masimo Rad-57.

•

Just because firefighters don't feel like they have CO poisoning doesn't mean that they don't have unsafe levels of carboxyhemoglobin (SpCO®) in their bloodstream.

•

That's why rehab guidelines support the use of on-scene CO testing.6 To be safe, have SpCO levels tested with a Masimo Rad-57 before going back into the fire and during overhaul, even if firefighters think they're okay.

>

Get prompt on-scene treatment.

•

Recognition is the key to immediate on-scene treatment. With early recognition, treatment for CO poisoning can begin immediately, which significantly reduces both immediate and long-term health risks.
Accessories
Light Shield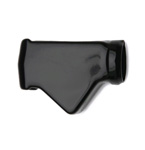 PN 2357, Box of 5
Quick Ref. Guide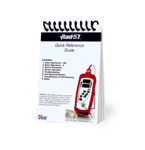 PN 33650
EMS Carry Case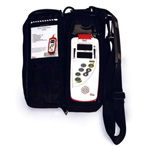 Black: PN 2207
Red: PN 2208
Sensors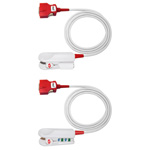 Top: PN 2201, Adult Rainbow DCI-dc3
Bottom: PN 2069, Pediatric Rainbow DCIP-dc3
Additional resources include the latest clinical and case studies, educational curriculum, CO-related articles, and websites dedicated to grants and fire rehab. Contact your local representative for more information or to obtain copies.



Brochure: Masimo Rad-57
for Fire/EMS Markets
1 Hampson NB et al.

American Journal of Emergency Medicine

. 26:665-669, 2008.
2 Jakubowski G.

FireRescue Magazine

. 22(11):52–55, 2004.
3 Bledsoe BE.

FireRescue Magazine

. September 2005.
4 Hampson NB et al.

Crit Care Med

. 2009; 37(6): 1941-47.
5 Bledsoe BE.

Journal of Emergency Medical Service

. 32:54-59, 2007.
6 NFPA 1584: Standards on the Rehabilitation Process for Members During Emergency Operations and Training Exercise. Annex A section A.6.2.6.4(1)