Once again raising the technology bar, the Radical-7 leverages Masimo's breakthrough noninvasive measurements with a radical departure from traditional monitoring for breakthrough functionality designed to automate the process of care and enable clinicians to instantly adapt to changing monitoring needs in individual patients and care areas.
Breakthrough Measurements
The Radical-7's upgradable rainbow SET® platform features noninvasive and continuous monitoring of:
>
Total haemoglobin (SpHb®), oxygen content (SpOC™), carboxyhaemoglobin (SpCO®), and methaemoglobin (SpMet®)
>
Masimo SET® Measure-through Motion and Low Perfusion pulse oximetry for oxygen saturation (SpO

2

), pulse rate, perfusion index, and pleth variability index (PVI®).
>
Respiration rate through either a novel acoustic sensor (RRa™) or through the plethysmograph waveform (RRp™)*

*This feature has not received FDA 510(k) clearance.
A More Complete Picture of Your Patients' Physiological Status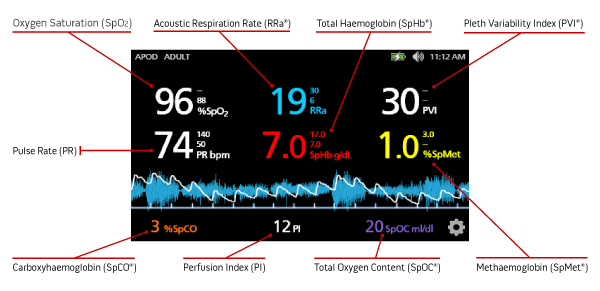 Exceptionally Easy Operation
| | |
| --- | --- |
| Change Displayed Parameters | Analyze Patient Trends |
| | |
| With a quick touch, drag, and drop, clinicians can move any parameter to and from center and bottom of the display, never losing track of any vital signs. | The instant-trend feature provides the ability to view one or two parameters at once and with a simple finger gesture, clinicians can move, expand, or collapse parameter trends for real-time analysis. |
Instantly Adaptable Functionality
The Radical-7 offers unprecedented versatility in multiple care areas with its automatic rotational screen for either horizontal or vertical display and three-in-one capability to be used as:
1)
A standalone device for bedside monitoring
2)
A detachable, battery-operated wireless device handheld or wearable device to facilitate untethered monitoring during transport and ambulation
3)
A multiparameter monitoring interface via SatShare®, allowing hospitals to seamlessly implement rainbow® measurement capabilities in the Radical-7 display while automatically sending the Radical-7's Masimo SET® pulse oximetry measurements for display on the multiparameter monitor.
Easily Configured to Meet Your Specific Clinical Need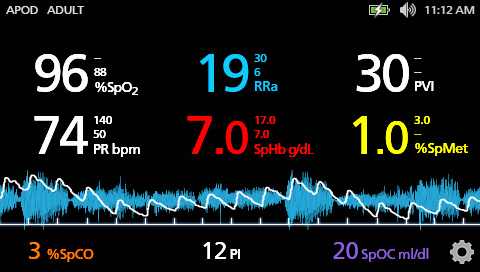 Normal View
Allows for continuous monitoring of all parameters along with a plethysmograph waveform and Signal IQ indicator (below pleth) to provide confidence in the quality of the values displayed. If the device is RRa-enabled*, its waveform can be overlayed on the pleth waveform, enabling deeper understanding of the patient's respiratory status.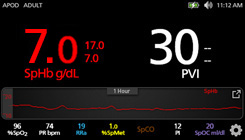 Trend View
The quick-trend feature allows for one-touch access to vital parameter trending information to instantly evaluate patient condition and illness severity. Auto-scaling feature allows the y-axis to automatically change with fluctuations in the measurement value.
Integrated Wireless Connectivity
Standard wireless connectivity from integrated 802.11 and Bluetooth® technology in the handheld Radical-7 keeps patients connected even while they are ambulating to enable clinician notification and automate charting and enable meaningful use of electronic health record systems.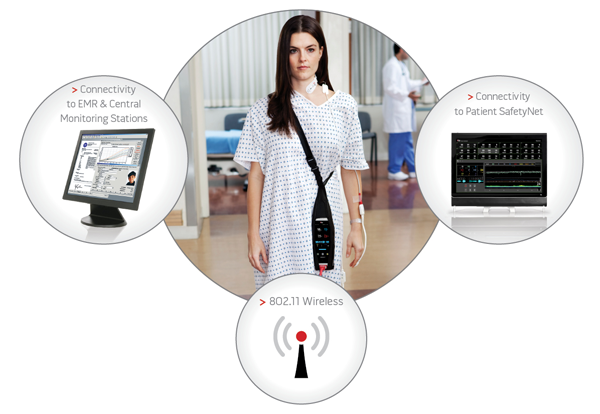 Powerful Clinical Applications
The Radical-7 unleashes the power of rainbow® and Masimo SET to help clinicians improve patient outcomes and reduce the cost of care in multiple ways.
| | |
| --- | --- |
| Operating Room, PACU and ICU | General Floor |
| | |
| Compact size integrates well into crowded ORs and provides uninterrupted monitoring as patients are transferred to the PACU | Integrated wireless connectivity and patient-worn ability keeps patients conveniently connected |
|   |   |
| Neonatal Intensive Care and Newborn Screening | Emergency and Respiratory Care |
| | |
| Quick, easy, and reliable assessment of these fragile patients | Portable and adaptable for a variety of care areas and applications |
PDF Resources