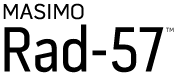 The world's most versatile
handheld oximeter, featuring
fully upgradable rainbow® technology.
Get Measure-through Motion™ Masimo SET® oxygen saturation, pulse rate, and perfusion index now— and upgrade later to total haemoglobin, oxygen content, carboxyhaemoglobin, methaemoglobin, and pleth variability index.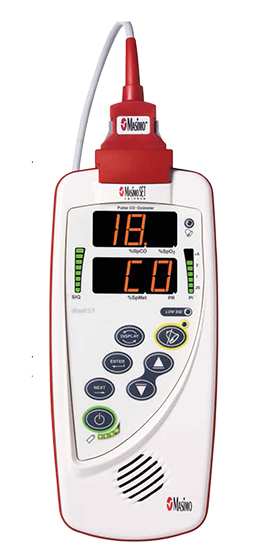 Pictured is the Rad-57 displaying SpCO. Display features will vary based on the noninvasive measurements loaded onto the device.
Technology Overview
>

More than 100 independent and objective studies demonstrate Masimo SET® provides the most reliable oxygen saturation (SpO

2

) and pulse rate (PR) measurements under challenging clinical conditions, including patient motion and low peripheral perfusion.



>

Masimo rainbow® technology analyzes multiple wavelengths of light to measure SET® measurements, total haemoglobin (SpHb®), carboxyhaemoglobin (SpCO®), methaemoglobin (SpMet®), and oxygen content (SpOC™).



>

Pleth Variability Index (PVI®) is a breakthrough measurement that may help clinicians noninvasively and continuously assess fluid status of patients.
Clinical Benefits
>

Masimo SET ® pulse oximetry - Proven accuracy and reliability allows for better clinical decision-making, leading to improved patient care.



>

Upgradeable rainbow® Pulse CO-Oximetry - Noninvasive and quick measurements may allow clinicians to make earlier clinical assessments and reduce costs of care.

>

Total Haemoglobin (SpHb) - Helps clinicians with quick, spot-check assessment.

>

Carboxyhaemoglobin (SpCO) - Helps clinicians detect carbon monoxide (CO) poisoning.

>

Methaemoglobin (SpMet) - Helps clinicians identify methaemoglobinemia, a dangerous and deadly reaction caused by many drugs routinely administered in clinical settings.

>

Oxygen Content (SpOC) - By calculating haemoglobin and oxygen saturation, SpOC provides a more complete picture of your patients' oxygenation status.

>

Pleth Variability Index (PVI®) - Helps clinicians assess fluid responsiveness in mechanically ventilated patients, aiding fluid management.
Noninasive and Quick Measurements at the Push of a Button

Screen Displays

The Masimo Rad-57's easy-to-read screen provides at-a-glance patient status data.
Product Overview
>

Quick and easy-to-use–requires no user calibration.

>

Complete replacement for existing handheld pulse oximeters

>

Factory-ordered options or simple field installed software upgrades to continuous monitoring and spot-check measurements of SpHb, SpCO, SpMet, SpOC, and PVI.

>

Rugged and lightweight–ideal for field or
hospital settings.

>

X-Cal™ provides an automatic method to detect when cables and sensors have been used beyond their expected life and guards patients against poor quality and performance of imitation sensors and cables.
Highlights
>

Delivers more than 8 hours of continuous battery life, with new batteries.

>

Up to 72 hours of trending memory.

>

FastSat® tracks rapid changes in arterial O

2

.

>

SmartTone™ beeps in sync with pulse, even under patient motion conditions.

>

Sensitivity options of APOD®, Normal, and MAX™ provide flexibility to support a range of clinical applications.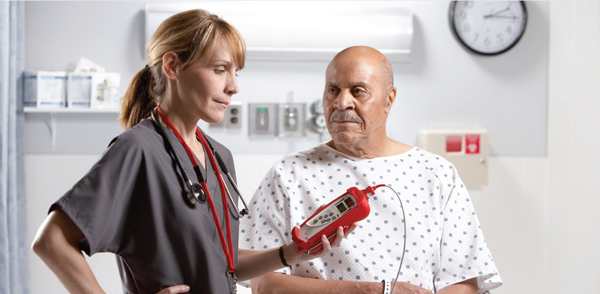 Protective boots are available in your choice of seven different colors.

Reusable Sensor Options

>

Rad-57 Comes standard with arterial Oxygen Saturation (SpO

2

), Pulse Rate, and Perfusion Index

|

PN9216
>

rainbow® reusable sensors available in 3 ft., 8 ft., and 12 ft. cable lengths.

>

Red® reusable sensors available in 3 ft. and 12 ft. cable lengths.

>

Masimo Rad-57 can also be used with Masimo LNOP®, LNCS®, and M-LNCS™ adhesive sensors.

>

rainbow® sensors must be used when reading SpHb, SpCO, and SpMet. Red sensors can be used for SpO2, PR, PI, PVI only.
| | |
| --- | --- |
| Available Upgrades | PN |
| Haemoglobin (SpHb) and Oxygen Content (SpOC) | 2630 |
| Carboxyhaemoglobin (SpCO) | 2296 |
| Methaemoglobin (SpMet) | 2297 |
| Measure of Fluid Responsiveness (PVI) | 2313 |