Improve Patient Safety
The proven accuracy and reliability of Masimo SET pulse oximetry allows appropriate clinical intervention.
"Inaccurate, invalid and incorrect pulse oximetry consumes caregivers' time when they are forced to care for the monitor and not the patient. Masimo SET pulse oximetry provides significantly less oximeter non-functional time than CPO and reduces the number of untrustworthy alarms and indicators."
Charles G. Durbin
Prof. of Anesthesiology, University of Virginia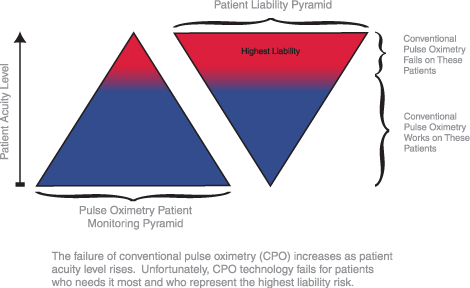 Clinical/Case Studies
| | |
| --- | --- |
| | The Impact of Masimo SET Pulse Oximetry on the Reduction of ROP |
| | Left Heart Hypoplasia: Baby Saved By Masimo SET Pulse Oximetry |
| | Conventional Pulse Oximetry is Unreliable During Helicopter Transport |
| | More Reliable Oximetry Improves Caregiver Efficiency |
| | Improved Pulse Oximeter Technology Changes Caregiver Practice Patterns: Masimo SET vs. Conventional Pulse Oximetry |
Pulse oximetry was developed to monitor patients at risk of heart/lung failure, yet conventional pulse oximetry (CPO) fails on the sickest patients 1-3 because the patients have poor perfusion and/or are experiencing motion. It is essential that these high acuity patients who represent the highest liability/risk, are reliably monitored for oxygenation and pulse rate.
Masimo SET pulse oximetry provides accurate monitoring for all levels of patient care, including life threatening cases where motion and/or low perfusion is likely. Clinicians can rely on accurate measurements and true alarms from a trustworthy source: Masimo SET pulse oximetry.
Improved Patient Safety
Studies show excessive false alarms lead to clinical non-response.4 Clinician practice patterns change when using accurate and trustworthy Masimo SET pulse oximetry.5
Masimo SET pulse oximetry improves care and reduces medical errors by accurately tracking the patient's physiology when it is needed most - during motion and low perfusion.6-8
1 Poets CF, Urschitz MS, Bohnhorst B. Pulse oximetry in the neonatal Intensive care unit (NICU): detection of hyperoxemia and false alarm rates. Anesth Analg 2002; 94;S41-43.
2 Malviya S, Reynolds PI, Voepel-Lewis T. et al. False alarms and sensitivity of conventional pulse oximetry versus the Masimo SET technology in the pediatric postanesthesia care unit. Anesth Analg 2000; 90 (6): 1336-1339.
3 Moller JT, Johannessen NW, Espersen K. et al. Randomized evaluation of pulse oximetry in 20,802 patients II. Perioperative events and oostoperative complications. Anesthesiology 1993; 78(3): 445-53.
4 Lawless ST. Crying wolf: false alarms in a pediatric intensive care unit. Crit Care Med 1994;22(6): 981-5.
5 Durbin CG, Rostow SK. More reliable oximetry reduces the frequency of arterial blood gas analysis and hastens oxygen weaning following cardiac surgery; a prospective randomize trial of the clinical impact of a new technology. Crit Care Med 2002; 30(8): 1735-40.
6 Cox PN. New pulse oximetry sensors with low saturation accuracy claims; a clinical evaluation. Resp Care 2006; 51 (11): 1332.
7 Murthy TVSP, Goyal R, Singh VP. Masimo-a new reliable non invasive method of detecting oxygen saturation in critically ill. Indian J Anesth 2005:49(2): 133-136.
8 Baquero H, Alviz R, Sola A. Avoiding hyperoxemia during neonatal resuscitation: time to response to different SpO2 monitors. presented at the Eastern Society for Pediatric Research annual meeting, Philadelphia, PA 2007; https://www.apsspr.org/ESPR/2007_ESPR_Program_Guide.pdf