SpCO®
Carboxyhemoglobin
Carboxyhemoglobin (SpCO®) is a breakthrough measurement that allows clinicians to noninvasively and immediately detect elevated levels of carbon monoxide in the blood-facilitating earlier diagnosis and treatment for patients poisoned by carbon monoxide.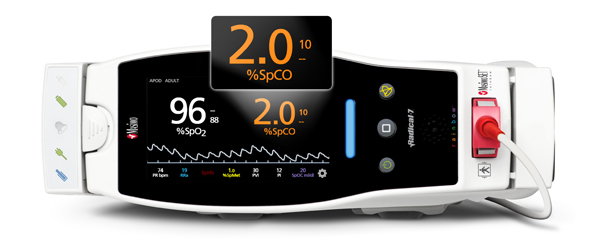 Click here to receive more information about Noninvasive
and Continuous Carboxyhemoglobin (SpCO®) »
A Deadly Poison Revealed with
SpCO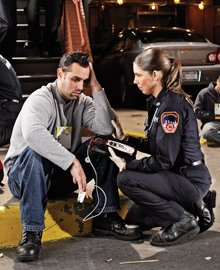 >

Carbon monoxide (CO) poisoning is the most common cause of poisoning in industrialized countries.

>

CO poisoning is often misdiagnosed because its symptoms are similar to the flu, and moderate poisoning is possible with no symptoms at all.

>

Noninvasive carboxyhemoglobin (SpCO) helps clinicians assess CO levels in the blood, facilitating earlier detection and treatment of CO poisoning.

>

Noninvasive carboxyhemoglobin (SpCO) helps clinicians assess CO levels in the blood, facilitating earlier detection and treatment of CO poisoning.

>

A recent study examined data from the Undersea Hyperbaric Medicine Society's CO poisoning surveillance system (supported by the Centers for Disease Control) and found that patients who were initially measured using Pulse CO-Oximetry had an almost one-hour reduction in time from the end of CO exposure to treatment.1
Saving Lives Every Day
>

In emergency medical services, SpCO is helping protect both victims and first responders from the dangers of CO poisoning.

>

SpCO helps paramedics and emergency medical technicians to detect CO poisoning—enabling prompt treatment and removal of those exposed to deadly CO in homes, hotels, and places of work.

>

SpCO is also helping firefighters reduce the risk of CO poisoning that they face every day. Just one severe CO poisoning nearly doubles the risk of premature death, and consistent CO exposure may cause long-term heart and brain damage.2,3

•

When even mild levels of CO are circulating in the blood, the heart and brain are robbed of critical oxygen.

•

This can cause mental confusion that leads to poor decision making and also increases the risk of heart disease or stroke—two conditions already accounting for nearly 50% of on-duty firefighter deaths.4

•

These factors are why industry-leading organizations have lined up to support CO education, and the National Fire Protection Association (NFPA) introduced a new fire rehabilitation standard—NFPA 1584—that supports on-scene CO assessment of firefighters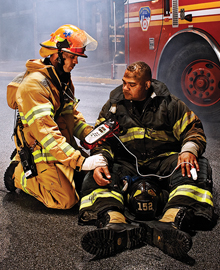 "We believe that all 50-plus people in the hotel would have been dead at dawn if it were not for this lifesaving intervention from Masimo."
Skip Kirkwood, MS, JD, EMT-P
Chief, EMS Division, Wake County Dept. of Emergency Services
Raleigh, NC
"Carboxyhemoglobin measurements performed noninvasively in the Emergency Department with Masimo Pulse CO-Oximetry should lead to enhanced diagnosis of CO poisoning, increased referral for appropriate treatment, and a resultant reduction in morbidity from the disease."
Neil B. Hampson, MD
Pulmonologist, Department of Hyperbaric Medicine,
Virginia Mason Medical Center, Seattle, Washington
Technology Platform
Masimo rainbow® is a noninvasive monitoring platform enabling the assessment of multiple blood constituents and physiologic parameters that previously required invasive or complicated procedures, in addition to providing Masimo SET® Measure-through Motion and Low Perfusion™ pulse oximetry.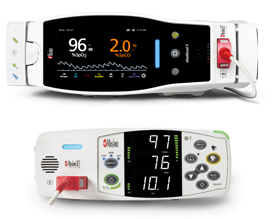 >

Total Hemoglobin (SpHb®)

>

Carboxyhemoglobin (SpCO®)

>

Methemoglobin (SpMet®)

>

Oxygen Content (SpOC™)

>

Acoustic Respiration Rate (RRa™)

>

Oxygen Saturation (SpO2)

>

Pulse Rate (PR)

>

Perfusion Index (PI)

>

Pleth Variability Index (PVI®)
The upgradeable rainbow® platform lets you choose the rainbow® measurements that are right for you now and be confident that your investment in patient safety won't become obsolete tomorrow.
PDF Resources
REFERENCES
1 Hampson NB. J Emerg Med. 2012 May 23.
2 Hampson NB et al. Crit Care Med. 2009; 37(6): 1941-47.
3 Bledsoe BE. JEMS. 32:54-59, 2007.
4 Bledsoe BE. FireRescue Magazine. September 2005.