PVI®
Pleth Variability Index
Pleth Variability Index (PVI®) is a breakthrough measurement that may help clinicians noninvasively and continuously assess fluid status of patients.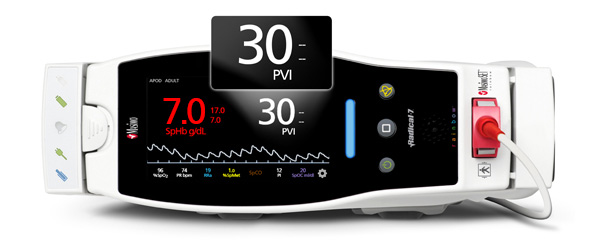 Click here to receive more information about Noninvasive
and Continuous Pleth Variabilitity Index (PVI®) »
>

Fluid administration is critical

•

To increase cardiac output and optimize patient status, enabling end organ preservation1

>

Unnecessary fluid administration associated with increased morbidity and mortality2

•

Fluid administration causes hemodilution, which reduces Hb concentration and increases likelihood of transfusion3

>

Traditional static measurements not reliable to predict volume responsiveness

•

CVP, SBP, DBP, Pulse Pressure, Wedge Pressure, Cardiac output4

>

New dynamic monitoring technologies are effective

•

Proven to improve outcomes but are invasive or complex - and costly5

•

Examples: Pulse pressure variation, stroke volume variation

•

Appropriate for higher-risk patients

>

There is a large opportunity to improve care in moderate to low risk population

•

Using low cost, noninvasive technology

>

PVI has been shown to help clinicians:

•

Predict fluid responsiveness in mechanically ventilated patients under general anesthesia during surgery and in the ICU in adults6,7 and children8

•

Improve fluid management and decrease lactate levels compared to standard care9
"PVI demonstrated high accuracy in discriminating fluid responders from non-responders—providing a unique opportunity to better manage a patient's fluid volume to optimize cardiac performance and organ perfusion."
Maxime Cannesson, MD
Associate Professor of Anesthesiology
in the Department of Anesthesiology &
Perioperative Care at the University of California, Irvine
Dr. Maxime Cannesson on the clinical value of PVI
Technology Platform
Masimo rainbow® is a noninvasive monitoring platform enabling the assessment of multiple blood constituents and physiologic parameters that previously required invasive or complicated procedures, in addition to providing Masimo SET® Measure-through Motion and Low Perfusion™ pulse oximetry.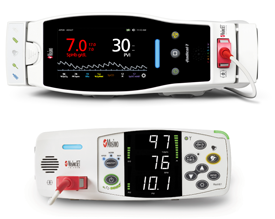 >

Total Hemoglobin (SpHb®)

>

Carboxyhemoglobin (SpCO®)

>

Methemoglobin (SpMet®)

>

Oxygen Content (SpOC™)

>

Acoustic Respiration Rate (RRa™)

>

Oxygen Saturation (SpO2)

>

Pulse Rate (PR)

>

Perfusion Index (PI)

>

Pleth Variability Index (PVI®)
The upgradeable rainbow® platform lets you choose the rainbow® measurements that are right for you now and be confident that your investment in patient safety won't become obsolete tomorrow.
PDF Resources
REFERENCES
1 Perel A. Anesth Analg. 2008; 106 (4):1031-33
2 Bundgaard-Nielsen M et al. Acta Anaesthesiol Scand. 2007; 51(3):331-40
3 Huybregts RA et al. Anesth Analg.  2009.  109(2): 331-339.
4 Michard F et al. Chest. 2002; 121(6):2000-08
5 Joshi G et al. Anesth Analg. 2005; 101:601-5.
6 Cannesson M. et al. Br J Anaesth. 2008;101(2):200-6.
7 Loupec T. et al. Crit Care Med. 2011;39(2):294-299.
8 Byon H et al. BJA 2012 December; DOI 10.1093/bja/aes467
9 Forget P. et al. Anesth Analg. 2010;111(4):910-4.