LNOP® Adhesive Sensors
LNOP Adt
Adult Sensor
> 30 kg

LNOP Adtx
Adult Sensor
> 30 kg

LNOP Pdt

Pediatric Sensors
10 kg - 50 kg

LNOP Pdtx
Infant Sensor
> 10 kg - 50 kg

LNOP Inf-L
Infant Sensor
3 kg - 20 kg

LNOP Neo-L
Neonatal/Adult Sensor
< 3 kg or > 40 kg

LNOP Neo PT-L
Neonatal
< 1 kg
LNOP Durable Adhesive sensors have the following advantages that help to reduce costs:
Durability
The tape material used in Masimo LNOP adhesive sensors is much more durable than other available sensors. The result is a sensor that can be moved and reapplied multiple times during a patient's stay.
Rejuvenation Feature
The adhesive used in the Masimo LNOP sensors has a unique rejuvenation feature. Using 70% isopropyl alcohol, the adhesive can be rejuvenated and the stickiness restored.1
Increased Sensor Longevity
Longevity studies have been conducted and the results show a nearly two-fold increase in durability with Masimo LNOP sensors compared to competitive disposable sensors.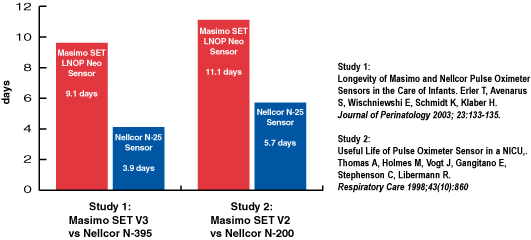 Increasing Performance
Masimo LNOP sensors are uniquely designed to reduce interference from physiologic and non-physiologic noise. Unlike conventional pulse oximetry sensor design, the photodetector is recessed in a cavity that protects it from ambient light interference. The sensors are also designed to decrease the effects of electro-magnetic interference.
1 Adtx and Pdtx cannot be rejuvenated.
Masimo Adhesive Sensors Improve Performance While Reducing Cost
Adhesive sensors have always had clinical advantages over reusable 'finger clip' sensors, which have made them the optimal clinical choice of caregivers.
The risk of cross contamination is less likely from single-patient use adhesive sensors than from reusable sensors.
For patients who are active or agitated, it is more difficult to shake off an adhesive sensor, thereby making monitoring in high motion environments more effective.
Compared to reusable sensors, adhesive sensors, which decrease pressure on the monitoring site, are less prone to cause pressure necrosis.
Discover for yourself how Masimo adhesive sensors represent an entire 'New Evolution' in sensor technology.